Traditionally there is no Mysore class on Moon Days (New Moon and Full Moon), the Mysore classes on these days will be replaced with a SPECIAL WORKSHOP OR DISCUSSION instead.
Learn more about this tradition and check our next moon day workshops date and topic here…
DESCRIPTION OF THE CLASSES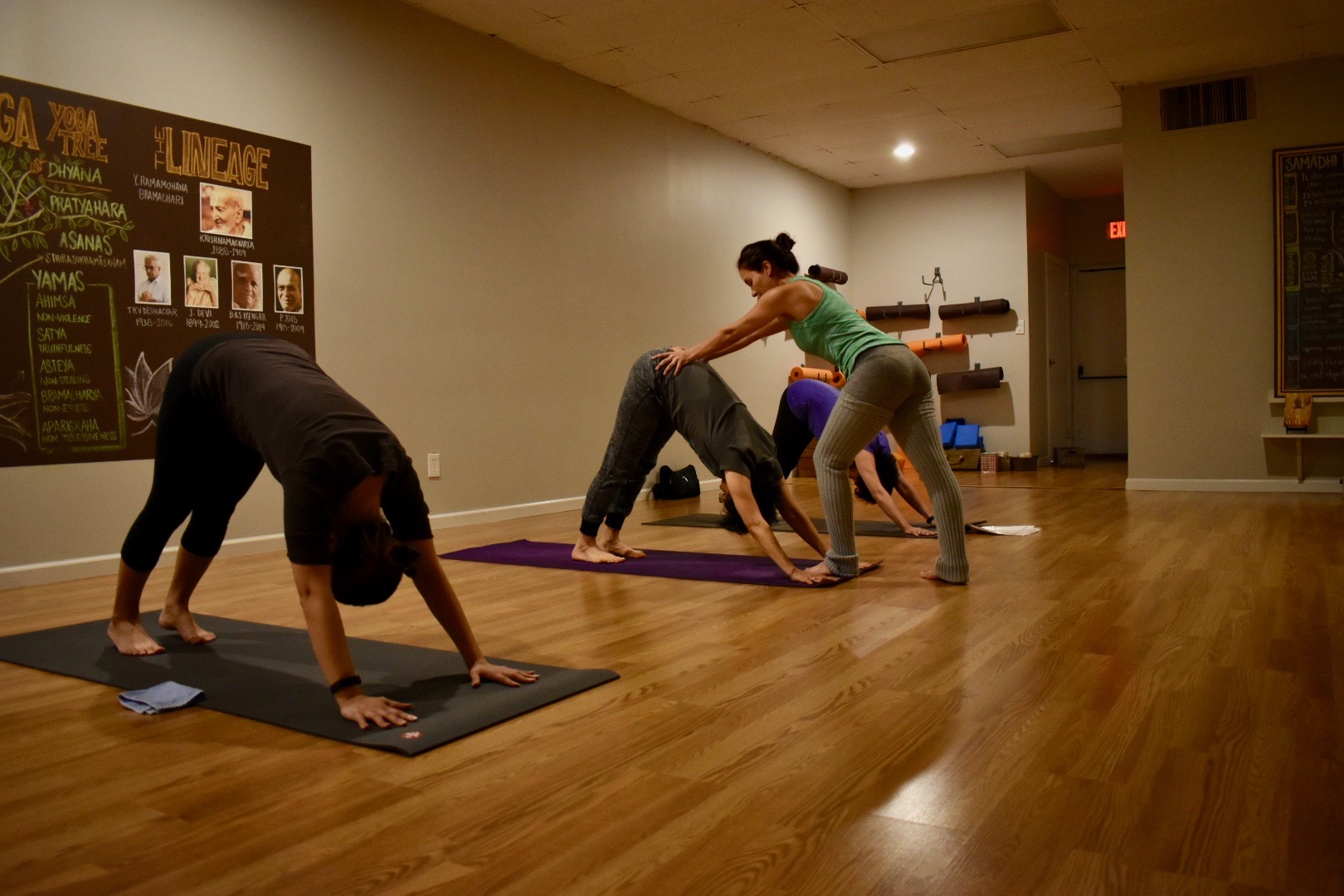 Intro to Ashtanga Vinyasa Yoga
Beginners class
Duration of the class: 1 hour, 15 minutes
These classes are carefully designed to introduce beginners to this traditional form of Yoga in a safe, supportive way. The student will learn the breathing technique use in the Ashtanga Vinyasa Yoga method -Ujjayi breath- and will be introduce to the basics postures of the primary series of Ashtanga Vinyasa Yoga. This series will be break down in a way that is approachable for all levels, as well as providing modifications appropriate for each individual.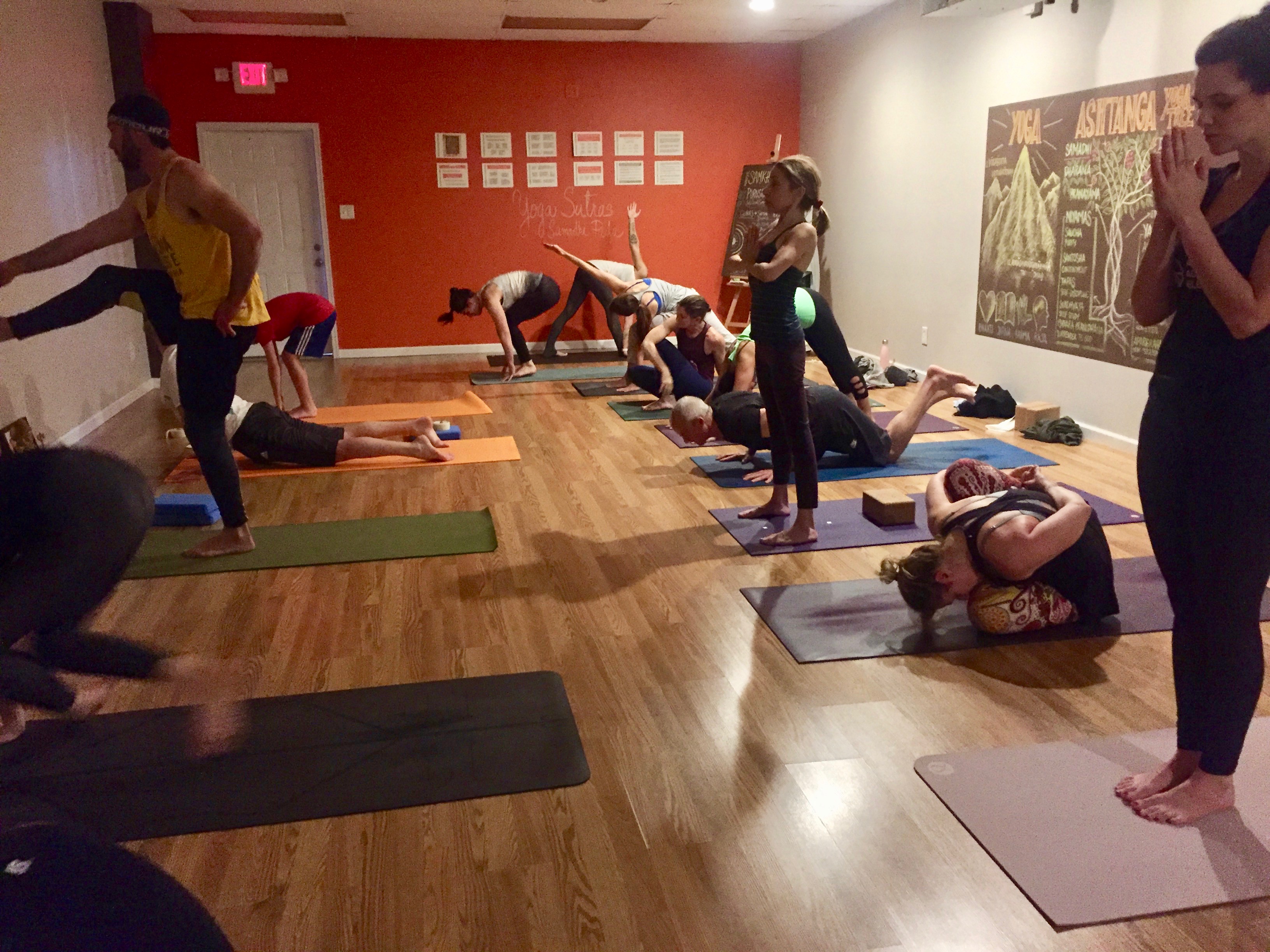 Mysore class
Suitable of all levels
Duration of the class: Don't Worry!! This is NOT a 4 hour class! 
Most students practice for about 1½ hours which is the amount of time it usually takes to complete a full series. However students who are on a tight schedule, or those who are new to ashtanga yoga often practice a partial series which may only take 30 minutes or so.
The student can arrive at any time between 6am and 10am in the morning time, and between 4pm and 8pm in the evening time and leave whenever necessary, or whenever your own practice is complete.
This is the traditional way to learn the Ashtanga Vinyasa Yoga method. In this class the postures are given to the student, one by one, by the teacher in a certain sequential order within a group setting, so the student can learn the sequence at their own pace, with direct and individual assistance from the teacher, which allow the student to progress in the practice at an appropriate  rate for their own ability, both physically and mentally. This class is for students of all levels and is an excellent opportunity to develop a personal, independent practice.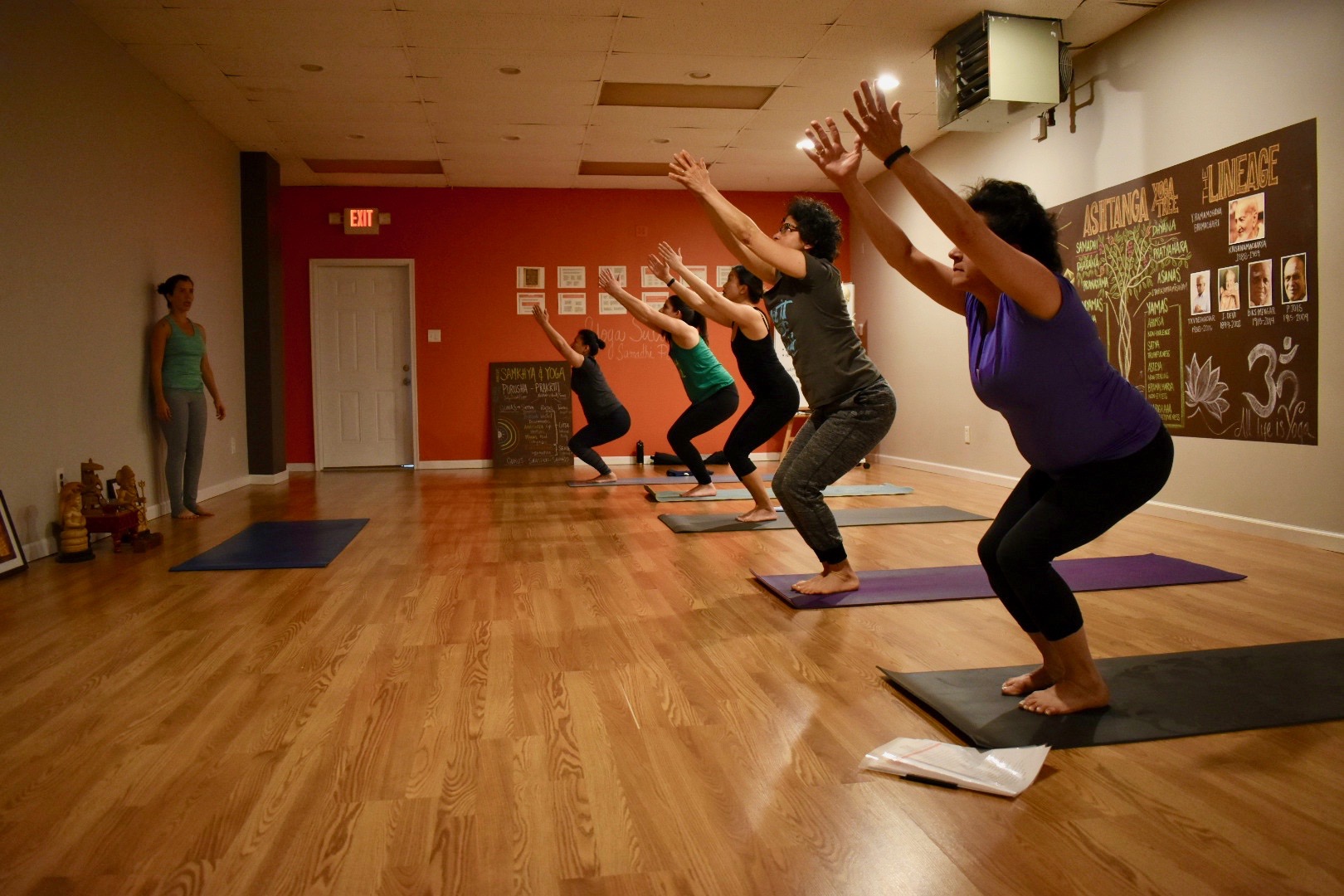 Led half primary series of ashtanga vinyasa yoga
Intermediate level class
Duration of the class: 1 hour, 30 minutes
This class will cover some of the postures in the first half of the Ashtanga Yoga Primary Series in a way that is appropriate for all levels. Though, if you have never try any yoga before we encourage to join to our Intro to Ashtanga Yoga class previously.
Each class will include sun salutations, standing postures, several seated postures, an introduction to back bending, and the full closing sequence.
Click on the image below to see the postures
Yoga Nidra
Recommended for all levels
Duration of the class: 1 hour.
Yoga Nidra means Yogic Sleep. A simple but powerful guided meditation technique in which you learn to relax consciously. It is a dynamic state of sleep between dreaming and waking where we systematically induce complete physical, mental, and emotional relaxation. It is practiced laying down while the body is still but the mind is aware as the teacher guides you through the meditation. You will be taken on a journey inward through the use of breath awareness, sense withdrawal, body scan, visualization, and more.