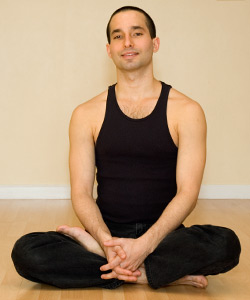 Adam Dobbs
Ashtanga Yoga Teacher
In 1997 I completed the Residential Spiritual Lifestyle Program at The Kripalu Yoga Center and later that year worked on staff at the Omega Institute for Holistic Studies. I am a N.Y.S. Licensed Massage Therapist and Registered Yoga Instructor for over 18 years. I have teaching certifications in Kripalu, ISHTA and Ashtanga yoga schools and studied under Edward Clark of Tripsichore Yoga Theatre in both the U.S. and London. Having maintained a daily discipline of seated  meditation practice for the last 21 years, it is emphasized within my teaching. I was trained by Nateshvar Ken Scott in the art of Contact Yoga/Yogassage ( now called acroyoga) and have continued my studies of  massage/bodywork extensively  throughout my travels in Thailand, India and China. I am the creator of Asian Fusion Bodywork® — a natural evolution of my experience. For more about me, please visit: www.adamdobbsyoga.com
Kim Johnson
Ashtanga Yoga Teacher
Kim began practicing yoga in 1997 and began teaching yoga in 2005. In 2008 she found the Ashtanga Vinyasa method. After rigorous study, Kim holds the knowledge and experience of 1000 hours of training in Ashtanga Vinyasa Primary and Intermediate series.  She's worked as an assistant to her teachers Tim Miller and Rolf and Marci Naujokat.
Kim has completed teacher training with Gretchen Robinson, Kathleen and Wade Mortensen, and Tim Miller, as well as spending extended time in India practicing and assisting in the shala of senior teachers Rolf and Marci Naujokat, in Anjuna, Goa, India. Here, she completed over 785 hours of training exclusively with Rolf & Marci.  Kim's knowledge includes in-depth study of yoga history, philosophy, yoga lifestyle, asana adjustments in Primary & Intermediate series, full Ashtanga Pranayama, as well as many hours sitting in satsang with Mataji Puri of the Santosh Puri Ashram.
In 2012, Kim began teaching Ashtanga both in Honduras at Yoga Utila and in India at Rolf and Marci's shala, Yoga Bones.
Kim's path with Ashtanga has led her to specialize in using the Ashtanga method for healing injuries. From starting Third series with Rolf, to sustaining a bicycling injury, she lost all of her physical practice except for the single asana, Samasitihi. Working with her teachers Tim and Marci she learned how to use Ashtanga for healing physical injuries related to mid and low back, hips, shoulders, and knees. Proof that good things come from injuries too!
She takes a non-aggressive approach to teaching, believing all eight limbs of Ashtanga Vinyasa method should be practiced to support the whole mind-body organism to give health and steadiness of self.
Sudheera H.M.
Sanskrit Teacher
All the Yoga Sutras and Bhagavad Gita classes at Ashtanga Yoga Long Island are taught by Sudheera H.M. from Mysore, India.
The classes are online in Skype video conference calls.
Sudheera. H.M. completed his primary and secondary education in his birth place, Sringeri where the goddess Sharada dwells. After completing higher secondary education, his mind turned towards the divine and richest language, Sanskrit. So he came to Mysore and joined Maharaja Sanskrit College to study Sanskrit in depth. To learn Sanskrit, he first completed the preliminary course SAHITYA. After that he decided to learn Sanskrit grammar and took Sanskrit Vyakarana Shastra Vidwat (a Sanskrit degree course) as a specialization. In this course he learned Paninian grammar works such as Astadhyayi, Mahadhasya, Siddanta Koumudi, and Laghu Sabdendu Shekhara.
After completing the Sanskrit grammar course in Mysore, he went to Tirupati to have professional education in Sanskrit. He completed a bachelor of education and master of education in Rashtriya Sanskrit Vidyapeetha, Tirupati.
Sharing knowledge is the main aim of education.